Towards the FOMC meeting: the Jackson Hole Economic Symposium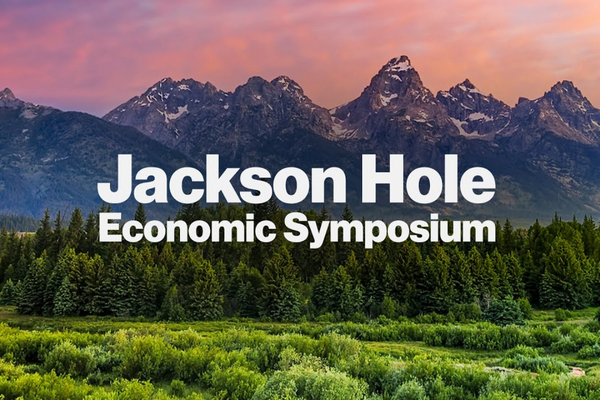 Towards the FOMC meeting: the Jackson Hole Economic Symposium
The next meeting of the FOMC will be held on 20 and 21 September at which speeches will be made on the level of interest rates. According to a first theory, an increase in interest rates of 75 basis points would be expected, which could give the dollar index an additional advantage.
The Jackson Hole Economic Symposium
Since 1978, the Federal Reserve Bank has organized its annual economic policy symposium in Jackson Hole, Wyoming. The event hosts numerous central bankers, academics and economists from around the world. The speech by Fed Powell is scheduled for today, which would give rise to indications on the next economic policy maneuvers and therefore on future interest rate hikes.
What to expect from Fed Chairman Powell?
A week before the Fed's much-anticipated Jackhole Symposium, markets reassessed expectations of an outsized rate hike as early as next month, which triggered an impressive recovery in the US dollar and Treasury yields.
Expectations around the Fed tightening path led Treasury yields to regain the 3% level as the US dollar index tested a 19-year high of 109.29 on Tuesday.
According to FXSSteet, economists expect Powell to reaffirm the Fed's commitment to control inflation through a tightening policy with tightening measures that are set to extend into 2023. Powell would then align with Fed officials, who already on the day of on Thursday they anticipated the rate hike until inflation subsided. This, despite the growing recession risks.
The dollar also finds new demand today, contributing in turn to the interruption of the recovery in the price of gold. In particular, the price of gold is falling close to $ 1750 / oz, interrupting a three-day recovery.
Powell's speech will be closely followed by market participants for any clues as to how aggressively the US central bank will continue to tighten monetary policy as well as indications of a potential change in strategy in the event of an economic slowdown.
How might precious metal prices react?
Everything is uncertain. In theory, a stronger dollar would result in a weaker gold price: although gold is considered a safe investment during times of economic uncertainty, increases in interest rates increase the opportunity cost associated with holding bullion. But this is not always the case: the quality of gold as a safe haven, in fact, tends to come into play with such Fed moves - which in any case suggest a continuing concern about the inflationary impact on the US economy -. The yellow metal could therefore also benefit from it.
Yesterday's initial performance on European markets was positive. On Thursday (08/25/2022) the dollar fell by 0.2%, making gold less expensive for buyers holding other currencies. Supported by the decline in the dollar, gold prices have risen. Specifically, spot gold rose 0.3% to $ 1756.20 / oz, while US gold futures gained 0.4% to $ 1769.20.
Today, however, gold has suffered a decline. This would have depended - according to Routers - on investors taking a cautious stance ahead of Fed Chairman Powell's speech at the Jackson Hole Economic Symposium.
In particular, today, 26/08, gold fell by 0.2% less to $ 1755.00 / oz.
There are still 26 days to go until the FOMC meeting. Meanwhile, sentiment in the markets will therefore be affected by Powell's statements expected today, Friday August 26, 2022.
- LAWRIE WILLIAMS: Gold on the rise as Fedwatch tool moves in favor of 75 bps increase. www.sharpspixley.com
- PRECIOUS-Gold eases as investors do prepare Powell's Jackson Hole speech - Reuters, https://www.nasdaq.com/
- Gold Price Prediction: The Bulls XAU / USD surrender towards the showdown of
Jackson Hole - FXStreetInsights - https://www.fxstreet.com/
- Gold Price Prediction: Hawkish Powell could revive the downtrend of
XAU / USD towards $ 1,729 - Dhwani Mehta, FXStreet https://www.fxstreet.com/