Who we are / Participations
Starcore International Mines Ltd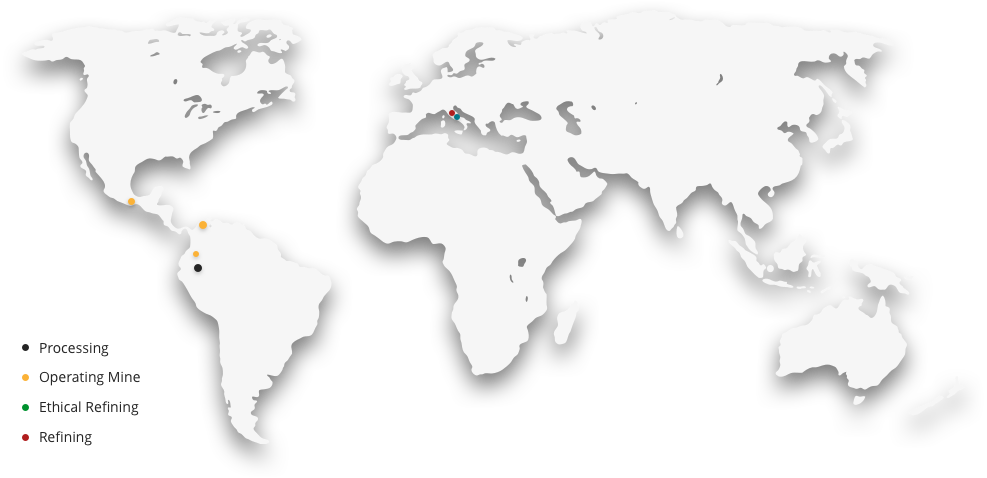 Italpreziosi works and collaborates with stakeholders in more than 25 countries worldwide and owns shares in various companies active in the precious metals supply chain. Here are some of the main holdings:
STARCORE INTERNATIONAL MINES LTD
Starcore International Mines Ltd is a Canadian mining exploration, development and manufacturing company. Its main property is the San Martin mine, which includes mining concessions covering an area of more than 12,000 hectares located in Queretaro, Mexico. The company holds mining concessions that have not yet been exploited or capitalized.
GRAN COLOMBIA GOLD CORP
Gran Colombia Gold Corp is a mining company listed in Canada on TSX – Toronto. In addition to being Colombia' largest mine, it also owns some mining concessions in Central and South America. Particularly in the Cooperative Republic of Guyana, what is now considered one of the largest gold mining projects in South America is being developed.
ARIS GOLD CORP
Company listed on TSX – Toronto, active in gold mining in Colombia. The company has acquired a portion of the mining concessions of Gran Colombia Gold Corp (Marmato) with prospects for a significant expansion of the mining phase currently underway.
GOLDLAKE IP
Goldlake IP is among the first in the world to have conducted, since 2008, a supply chain traceability project from mining to refining and subsequent exclusive sale to Cartier of ethical gold, in compliance with high environmental protection standards, investing in social activities and integration with local communities, combining profit and innovation with respect for humankind and the ecosystem.